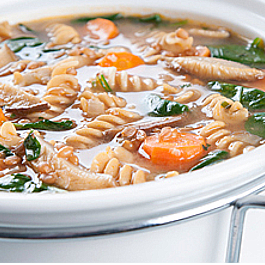 Courtesy of Wheat Foods Council
Servings: 8
Prep Time: 10 Min.
Cook Time: 1 Hr. 36 Min.
* 1 c. uncooked wheat berries
* 2 c. boiling water
* 1/2 c. dried porcini or shitake mushrooms (about 3/4 oz.)
* 1/2 c. finely chopped fresh parsley
* 3 garlic cloves, minced
* 1 1/2 tsp. olive oil
* 1 c. diced onion
* 4 carrots, sliced
* 6 c. reduced sodium chicken broth
* 1/2 c. white wine (or unsweetened apple juice can be substituted for wine)
* 1 Tbsp. tomato paste
* 1 1/2 c. cooked whole-wheat pasta such as penne
* 5 oz. fresh spinach
* 1/2 tsp. salt
* 1/4 tsp. black pepper
* 6 Tbsp. (1 1/2-oz.) grated fresh Parmesan cheese
1. Place wheat berries in a medium saucepan; cover with water to 2-in. above wheat berries. Bring to a boil; reduce heat, and cook, uncovered, 1 hour or until tender. Drain.
2. Combine 2 cups boiling water and mushrooms in a bowl; cover and let stand 30 minutes.
3. Drain mushrooms, reserve soaking liquid. Discard mushroom stems; thinly slice mushroom caps.
4. Combine parsley and garlic; divide into 2 equal portions.
5. Heat olive oil in a large Dutch oven over medium-high heat. Add cooked wheat berries, mushrooms, 1/2 of parsley mixture, onion and carrots; sauté 5 minutes. Stir in reserved mushroom liquid, broth, wine and tomato paste; bring to a boil. Cover, reduce heat, and simmer 30 minutes.
6. Add pasta, spinach, salt and pepper. Cook for 1 minute or until
thoroughly heated. Stir in reserved parsley mixture. Spoon soup into bowls and top with cheese.

* Time Saver Tip: Cook extra wheat berries as directed in the recipe or they can be prepared following the brown rice directions in a rice cooker. Freeze for later use.
Calories: 231;
Total Fat: 3g;
Saturated Fat: 1g;
Cholesterol: 4mg;
Total Carbs: 35g;
Fiber: 7g;
Protein: 13g;
Sodium: 692mg;