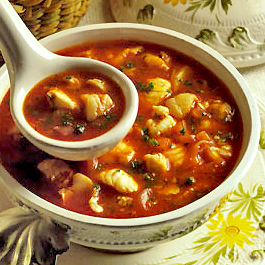 Courtesy of UK Seafish Authority
Serve With:
French bread and a green salad.
Servings:
4
Prep Time:
15 Min.
Cook Time:
25 Min.
* 2 lb. mixed white fish fillets, skinned and cubed (e.g. monkfish, conger eel, red mullet, cod, haddock)
* 6 oz. uncooked peeled prawns
* 2 Tbsp. olive oil
* 1 large onion, sliced
* 2 cloves garlic,crushed
* 2 (14 oz. EACH) cans chopped tomatoes
* 2 c. fish or vegetable stock
* 1 large bay leaf
* salt and black pepper
* 1-2 drops original TABASCOŽ sauce
* 1 bouquet garni
* pinch of saffron threads
* fresh chopped parsley, to garnish
1. Heat the oil and sauté the onion and garlic until soft.
2. Stir in the tomatoes, stock, bayleaf, seasoning, Tabasco, bouquet garni and saffron. Bring to the boil and simmer for 10 min.
3. Add the cubes of firm fish e.g. monkfish, conger eel and simmer for 2-3 min.
4. Add the more delicate fish e.g. mullet, cod, haddock and simmer for a further 5 min.
5. Stir in the prawns and cook for another 2 min. Remove the bouquet garni and the bayleaf.
6. Sprinkle with parsley and serve with French bread, a continental salad and garlic mayonnaise.

Courtesy of Seafish, the UK Sea Fish Industry Authority www.seafish.org

"From sea to plate, Seafish delivers expert knowledge, skills and support which help the UK seafood industry secure a sustainable and profitable future."