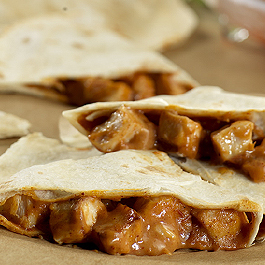 Courtesy of Campbell's« Kitchen
Serve With:
Pace« Salsa and Mexican-style rice with beans.
Servings:
8
Prep Time:
15 Min.
Cook Time:
20 Min.
* 1-1/4 lb. boneless skinless chicken breast halves, cut into cubes
* 1 can (10-3/4 oz.) Campbell's« Condensed Cream of Chicken Soup (Regular or 98% Fat Free)
* 1/2 c. Pace« Picante Sauce
* 1/2 c. shredded Monterey Jack cheese
* 1 tsp. chili powder
* 8 flour tortillas (8-in.), warmed
1. Heat the oven to 425║F.
2. Cook the chicken in a 10-in. nonstick skillet over medium-high heat until well browned and cooked through, stirring often. Stir in the soup, picante sauce, cheese and chili powder and cook until the mixture is hot and bubbling.
3. Place the tortillas onto 2 baking sheets. Spread about 1/3 c. chicken mixture on half of each tortilla to within 1/2 in. of the edge. Brush the edges of the tortillas with water. Fold the tortillas over the filling and press the edges to seal.
4. Bake for 5 min. or until the filling is hot. Cut the quesadillas into wedges.